Workshops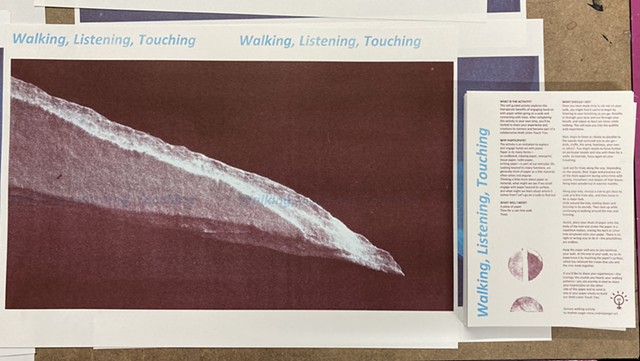 Workshops and Research Outputs
2021
Late Night with Lumina
Co-led a late-night event celebrating women in the arts by Lumina Collective and facilitated a VTS group discussion at Nottingham Caste Art Gallery, Nottingham.
Becoming tree
'Walk-shop' facilitation and VTS discussion, as part of the 'Walking as question' International Walking Encounters Conference, Prespa, Greece.
Touching acts
Workshop co-leader as part of the DREAM encounter series at NTU, Nottingham.
Touching, Listening, Walking
'Walk-shop' facilitation as part of the workshop series 'Paper, Pattern, and the Personal' at Backlit Galleries, Nottingham.
VTS Look and Listen Club Nottingham
Organisation and leading of weekly online group discussions to nurture slow-reading art as collective sense-making.
2019
Visual Thinking with photographs
Workshop facilitation at Cracking the Established Order at De Montfort University, Leicester
Material TIFFS
Showcase, AHRC-Midlands-4-Cities Research Fest, Maple House, Birmingham.
Listening with practice
Research Matters, Poster presentation, New Art Exchange, Nottingham.
2016
Meaning-Making and Photography: A material performance of non-objects
Conference presentation at Helsinki Photomedia 2016, Aalto University, School of Arts and Design.
2014
I See
Conference performance at Swiss Artistic Research Network Unconference, Geneva University of Art and Design, CH.
2010
What are you hiding behind your mask
Workshop facilitation as part of the School of the Future project at Sgt. Dougherty Park, Bushwick, NYC, U.S.
XA
in journal: derdiedas, Vol. 5, pp. 23-34.